Tästä puhe tällä kertaa! ~~~ This is what we're talking about this time!
Ehkä tunnusomaisinta viikinkivaatetta ikinä, olkainmekkoja, on tullut tehtyä aikojen saatossa useammatkin kappaleet. Pääasiassa olen käyttänyt
Viking apron dress by Vigdis
'in kaavaa, ja vaikka se on ollut todella hyvä ja toimiva, nyt tuntui siltä, että voisin koittaa jotain muutakin. Lähtökohdaksi otin sen, että jonkinlainen Hedebyn mekonkappaletta muistuttava pala olisi suotavaa prosessista silti muotoutua ja pituutta olisi hyvä olla ihan kunnolla nilkkaan saakka eikä ainakaan vähempää. Joten ei kun hommiin.
The apron dress is perhaps the most identifiable piece of viking wardrobe ever, nothing screams "viking" quite like it. I've made several apron dresses using the Viking apron dress by Vigdis pattern, and it's been a really nice and practical pattern. However, now I felt like I should try something new. The goal was that it should end up with a piece of fabric somewhat similar in shape to the Hedeby apron dress fragment and the finished dress should be ankle length, not shorter. So there, off to cutting I went.
Hedebyn mekonkappale Haithabun museossa, kirjasta "A medieval wardrobe". ~~~Hedeby dress fragment from the book "A medieval wardrobe".
Kangasta, sinistä
Tippetiltä
ostettua lähes vanuttamatonta villapalttinaa, oli noin 150 x 170 cm pala. Kaavassa tein tahallisen poikkeuksen löytöön sillä, että tein suosiolla saumoja ja erillisiä kappaleita muotolaskosten sijaan. Lähdin pilkkomaan kankaan kiilanmallisiksi kappaleiksi, sitten alettiin sovittaa. Tuli yläosastaan tarkoituksella aika vartalonmyötäinen, mutta helmanleveyttä riittää mukavan 210 cm:n verran. Eli homman nimi oli se, että kappaleet ovat yläreunasta vyötärölle saakka hyvinkin suoria, vyötäröltä alkaa leventyminen, vyötärön kohdalla ei ole erityistä levenemisen aloittavaa kulmaa. Tämä leikkuusuunnitelma, jos olisi kapeammasta kankaasta tehty eli reunaan ei olisi jäänyt palaa joka ei tähän mekkoon sopinut, olisi ollut myös Hedebyn löydön mukainen sillä siinä mekonkappaleen yläreunassa on mekon sisäpuolelle käännetty hulpioreuna (
Hilde Thunem
ia kuuluu kiittää tästä tiedosta :) )
I had about 150 x 170 cm piece of blue almost unfulled wool from Tippet in tabby weave
.
I did a little alteration to the original pattern, and I decided to use seams and not darts as in the fragment. I cut the fabric up to gore-shaped pieces, then I started fitting the garment to me. It ended up as quite snug at the top, but it has a nice hem width, 210 cm. So the thing was, that the dress parts from the top edge to waist ended up pretty straight and they start widening from the waist. This cutting pattern, had it been for a narrower piece of fabric so that this stray piece of fabric on the side would've been omitted, would also match the Hedeby find -on the find there is a turned selvedge on the top of the dress piece. Hilde Thunem is to be thanked for this information :)
Näin yksinkertaisella lähdettiin liikkeelle. ~~~ It started out this simple.
Jälkeenpäin aloin miettiä tämän leikkuusuunnitelman järkevyyttä kankaankudontamielessä, ja vaikka ilman muuta nyt käytetyn leikkuusuunnitelman mukainen oli todistetusti toteutuskelpoinen ja leikkuusuunta ihan dokumentoitukin, aloin miettiä miten kaavasta voisi saada teoreettisesti vielä hiukan käytännönläheisemmän -päädyin suunnitelmaan jossa valmiita hulpioreunoja päästäisiin hyödyntämään maksimaalisesti. Meinaan vaan että melko varmasti itse olisin iloisempi pitkien saumojen kohdalle asettuvista hulpioista kuin jo kudonnasta asti puolivalmiista helmasta ja pääntiestä -mutta toisaalta tässä suunnitelmassa on myös yksi sauma enemmän. Mene ja tiedä sitten, mutta tulipahan suunniteltua.
After I had cut the dress, I started to think about the pattern in a weaving point of view. The original cutting plan is very efficient and the cutting direction is also documented, too, but I started thinking if it could be a little more practical still. So I started making a cutting plan where the selvedges were utilized as efficiently as possible. I mean, when sewing, I'd appreciate selvedges in long seams more than in hem or neckline -although this pattern has one seam more. Don't know if that's good for really anything, though, but there it is :)
Vaihtoehtoinen leikkuusuunnitelma kapeammalle kankaalle, maksimaalinen valmiiden hulpioiden hyödyntäminen! ~~~ Alternative cutting pattern, taking the most out of the readily-woven selvedges!


Se suunnittelusta, lisää nippelitietoa tästä omasta mekosta ja sen Hedebyläisestä vastineesta. Omani saumatekniikkana käytin eri puolille kaksinkerroin käännettyjä, yliluotellen ommeltuja saumavaroja
.
Alkuperäisen yhdistävistä saumoistahan ei voida juuri sanoa mitään sillä niitä ei ole fragmentissa säilynyt, mutta
Heather Rose Jones
in mukaan tämä tekniikka on myös Hedebystä tunnettu, joten sillä mentiin. Yläreunan sauma taas fragmentissa oli sisäpuolelta aitapiston tiheämmällä ja koristeellisemmalla versiolla, vehnäntähkäpistolla (termi kirjasta Kirjonnan parhaat pistot, engl. ösenstitch) taitettu ja kiinnitetty, tätä pääsi sentään omaan mekkoonkin koittamaan -samanvärisellä langalla tehtynä, jotenkin tässä viehätti ajatus siitä että kankaan upea sininen väri on itsessäänkin jo koriste, päästää sitten soljet ja helmetkin oikeuksiinsa. Fragmentissa oleva varsinainen koriste, kolmen säiken letillä letitetty nauha muotolaskoksen päällä, kuulosti kyllä kivalta ajatukselta ja ehkä sitä sitten tulee vielä sovellettua sauman päälle, mutta vielä en sitä siis tehnyt.
That's all for planning, I'll still have some odds and ends concerning my dress and the Hedeby fragment. As for seam techniques, in my dress I folded the seam allowances over and stitched them with overcast stitches. The joining seam techniques of the Hedeby dress are not known since no joining seams have survived, but this technique is also known from Hedeby according to Heather Rose Jones. The top edge was folded over and stitched down using a decorative version of herringbone stitch (on the inside!), so called ösenstitch. I used this stitch too, and I really liked the idea of undecorated top edge -a lovely blue colour is decoration by itself, and no trims also mean that brooches and beads stand out even better. The real decorations in the fragment, a braided cord stitched to the dart, I did not use, at least not yet. It does sound like an attractive idea, though, I still might give it a shot at some point.
Vehnäntähkäpistorivi yläreunan sisäpuolella. ~~~ A row of Ösenstirches inside the top edge.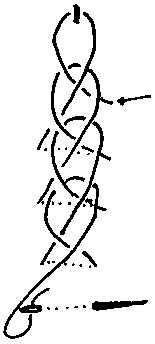 Vehkäntähkäpisto- tee-se-itse! Kuva Carolyn Priest-Dorman.~~~ Ösenstitch DIY! Drawing Carolyn Priest-Dorman.
Tällainen tästä sitten tuli! Lättällään lattialla ei kovin viehättävä, mutta päällä kiva senkin edestä.

So this is what I came up with! Flat on the floor, not really attractive, but when worn, it makes up for that!